Hotel San Gallo Venice
. Read details, view map, photos and book online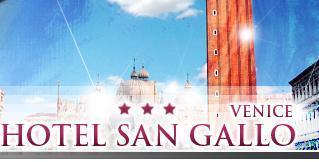 The San Gallo Hotel in Venice is found in the magnificent Campo of San Gallo, only 50 meters from St. Mark's Square. It is well-known all around the world for its lovely atmosphere overwhelming you with magic, charm and romanticism. The hotel is a three-star facility provided with relaxing settings furnished in traditional Venetian style that renders it even more inviting.

The facility enjoys an excellent position, close to steamboat stations, allowing you to move easily to explore the extraordinary lagoon beauties.

The hotel also proposes excursions to Venetian isles, such as Murano, Burano and Torcello.
Give us your Feedback
Hotel San Gallo, San Marco 1093/A - Venice